Need help with the clips?
ISSUE #90
ANTJE DUVEKOT interview
• The Near Demise Of The
High Wire Dancer
1. Vertigo
2. Ragdoll Princes and
Junkyard Queens
3. Long Way
4. Lighthouse
JESSE WINCHESTER interview
• Love Filling Station review
1. I'm Gonna Miss You Girl
2. It's A Shame About Him
3. I Turn To My Guitar
4. Bless Your Foolish Heart
DANNY O'KEEFE interview
• In Time
1. The First Time
2. Maybe Next Time
3. Back in Time
4. Sleep (Anywhere On Earth
You Are)
. . . . . . . . . . . . . . . . . . . . .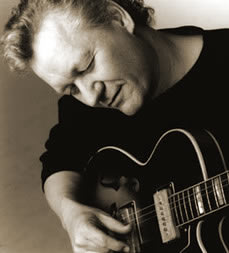 Tim Krekel, one of the great guitarists and songwriters of our age, passed away on June 24, 2009. He died in his hometown of Louisville, with family and friends, after a short bout with cancer.
He was highly respected and much loved in Nashville, where he spent a lot of time before relocating back to his roots in 1993. Tim wrote songs and hits for Patty Loveless, Martina McBride, and Crystal Gayle. He also co-wrote "Sleep (Anywhere On Earth You Are)" for Alan Jackson with Danny O'Keefe. He also toured with Jimmy Buffet.
I knew Tim some personally; he was an incredibly nice and gracious man. His wry charm and quiet intelligence belied his street savvy and his sense of humor. I saw him a lot on stage or in rehearsal, even, and he was a natural bandleader and the perfect accompanist, depending on the situation. The man could rock and roll like a sonofabitch, and he played soul and country and blues like they all grew from the same tree. He was in a very small group of absolutely natural guitarists I've had the pleasure to know, and that is something to behold. It certainly was in Tim's case--his playing could make you cry or laugh out loud, he put so much feeling into it. Cat was a guitar man, and will always be one of the greats in my book.
Sail on, Tim. Your friends and your fans will treasure your memory, and we'll raise a glass when we listen to your music. • FG
1. Best Thing I Never Had
2. Wilson Pickett
3. Who You Think You Are
4. Love One Another
5. It Don't Bother Me
. . . . . . . . . . . . . . . . . . . . .

ISSUE #90
AKRON/FAMILY review
• Set 'em Wild, Set 'em Free
1. Everyone Is Guilty
2. River
3. Gravelly Mountains Of The Moon
BOWERBIRDS review
• Upper Air
1. Teeth
2. Beneath Your Tree
3. Chimes
CARLOS DEL JUNCO review
• Steady Movin'
1. Movin' Down The River Rhine
2. Bye For Now
3. Mashed Potatoes Canada
& earlier clips here
DIRTY PROJECTORS review
• Bitte Orca
1. Cannibal Resource
2. Two Doves
3. No Intention
& earlier clips here
THE HORSE'S HA review
• Off The Cathmawr Yards
1. Wilds Empty Bedroom
2. The Piss Choir
3. Rising Moon
DANIEL LANOIS review
• Omni Series Box Set
1. Tears Of A Thousand Rains
2. Plains Of Abraham
3. Frozen Bells
THE MILK & HONEY BAND review
• Dog-Eared Moonlight
1. Just You
2. Incredible Visions
3. Maryfaith Autumn
NITE JEWEL review
• Good Evening
1. Artificial Intelligence
2. Lover
3. Weak For Me
SIMON & GARFUNKEL review
• Live 1969
1. Homeward Bound
2. Why Don't You Write Me
3. So Long, Frank Lloyd Wright
TINTED WINDOWS review
• Tinted Windows
1. Kind Of A Girl
2. Dead Serious
3. Without Love
VETIVER review
• Tight Knit
1. Rolling Sea
2. Sister
3. Everyday
& earlier clips here & here

+
. . . . . . . . . . . . . . . . . . . . .


FRANK GOODMAN editor
• Morning Boy
1. If Love Turns Its Back On You
2. Take It Back
3. Morning Boy
• All The Way Down
1. That's The Thing About A Woman
2. All The Way Down
to the previous listen page (44)