THE OMNI SERIES [box set] • Daniel Lanois
Bob Dylan, Brian Eno, U2, Peter Gabriel, Emmy Lou Harris, Ron Sexsmith, Willie Nelson, The Neville Brothers, Marianne Faithful -- Daniel Lanois has produced them all, so it is unlikely that you have never heard his work. It is also quite possible that you have an opinion about it. Lanois is not one of those transparent producers whose gossamer touch barely brushes the character of a record's sound. In the case of superstars like U2 and Peter Gabriel it may not be obvious, but even an icon like Dylan had his sound transformed by this Canadian producer. Some find his fingerprint intrusive while others laud the murky atmosphere in which he swathes so many of his artists.
I fall in the latter category. I consider Wrecking Ball to be the album that turned Emmy Lou Harris from a great "girl singer" -- as they call them in Nashville -- into a brilliant artist. Though it may not have contained his best songs, Teatro revealed hitherto unplumbed depths in Willie Nelson's performing abilities. Lanois has a knack for pushing musicians out of their comfort zones. Sometimes they push back, as anyone who has read Dylan's Chronicles is well aware.
Fewer are familiar with Lanois the artist. His first two solo records -- Acadie and For the Beauty of Wynona -- are gems, with folkish tunes that recall Lanois' French-Canadian roots. Though full of the "emotion-of-sound" production that is his trademark, they also show off his songwriting and singing prowess.
More recent releases have included, or been entirely composed of, instrumental work featuring his unique voice on pedal steel, acoustic and electric guitars. Omi Series is a boxed set of three new CDs, sans vocals, and a dozen postcards featuring reproductions of Lanois' photography -- as evocative as his music.
The first CD, Steel, showcases Lanois on what he calls his "Little Church in a Suitcase," his pedal-steel guitar. Fans of the Buddy Emmons School of virtuosity need not run out and buy this set. Steel presents this stalwart tool of country music in a new light. In Lanois' hands it becomes an instrument of mystery and ambience. Though these ten tracks nod to the crying sound of Tom Brumley on a Buck Owens ballad, they live in a more modern world of emotional ambiguity.
Disc 2, Purple Vista, emphasizes the producer's sonic experiments. Mostly made up of the same guitars, pianos, bass, and drums available to the rest of us, it demonstrates that, with a little reverb here, a little delay there, and a painterly vision of mixing sounds and tonalities, small musical gestures can create big emotions.
Santiago, Disc 3, contains tracks created for a documentary about the Pixies but sounds nothing like the punk pop of that band. It is instead, Lanois at his most pastoral. A reprise of "JJ Leaves L.A." from the Steel disc demonstrates how he fleshes out what might have begun as a solo pedal steel piece into an ensemble effort.
Though studio processing plays an important role in the Lanois sound (if you are interested in the method behind the magic, track down the DVD version of Here Is What is), his instrumental work throughout Omni Series demonstrates how any sonic modification springs directly from the way Lanois touches his chosen instruments. It also brings to the foreground his knack for making the traditional elements of "roots" music relevant to our current era.
The Omni Series is not just for students of record production or Lanois completists. These three discs make a great soundtrack for anyone's life, without ever descending into musical wallpaper. Like Erik Satie's "furniture music," you don't have to pay attention, but are rewarded if you do.
•Michael Ross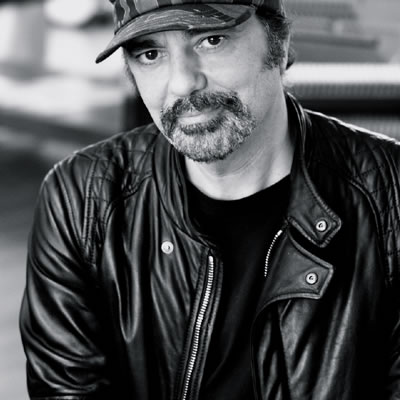 listen to clips return to covers
daniellanois.com redfloorrecords.com
see a live video of "JJ Leaves L.A." here
and dig this