STEADY MOVIN' • Carlos del Junco
The economics of blues and roots music are unfortunate. In a more lucrative field, people all over the world might be able to see the brilliant teaming of Carlos Del Junco's incomparable harmonica and Kevin Breit's inventive stringed instrument prowess, at a local venue, at least once a year. As it stands, if you are lucky enough to live in Canada, you might get to see them play together once every four or five years, at the release party for del Junco's latest recording. The harmonica virtuoso tours regularly, but more lucrative demands on Breit's time, from artists like Cassandra Wilson, Rosanne Cash, Amos Lee, and Norah Jones, must make it hard for him to consider jaunts into the hinterlands at blues wages. Too, del Junco's relative anonymity south of the border means that Americans don't ever get to see him work his mouth harp magic. Fortunately, no matter where you live you can hear the pair any time by just purchasing Steady Movin', and/or the previous records they have recorded: Blues Mongrel and Big Boy.
These records are released under del Junco's name but it is hard to overestimate Breit's contribution. One need only listen to "Diddle It," and "Doodle It" on this CD -- essentially two versions of the same blues, written by del Junco. The former is performed as a boogie with Breit adding horn-like stabs that kick the level of excitement through the roof, all while providing harmonic and melodic responses to del Junco's harmonica. Breit is credited with arranging the latter, and he turns the same theme into a banjo driven jazz tune, reminiscent of Thelonious Monk.
This is not to diminish del Junco's genius. Once again, the harmonica man's performance reveals his usual combination of off-the-hook chops and impeccable taste; a taste that he evidences in areas other than his playing. Though more than a serviceable singer himself, when it comes to wringing the most out of his old school funk tune "Mashed Potatoes Canada," he brings in a ringer -- John Dickie from John and the Sisters -- whose leather lungs are more suited to the James Brown-ian nature of the song.
Carlos del Junco demonstrates constant creativity, whether playing unaccompanied for the Delta-drenched, Sonny Boy Williamson tune "Movin' Down the River Rhine"; in duo with Breit's acoustic slide for the guitarist's, beautiful ballad, "Bye For Now"; delving into Bill Frisell territory for cellist Matt Brubeck's "The Simple Life"; or swinging the jazz shuffle of "Jersey Bounce." If you like your music eclectic and soulful, Steady Movin' will make you very happy. Maybe if we buy enough copies we will finally get to see this dynamic duo live.
• Michael Ross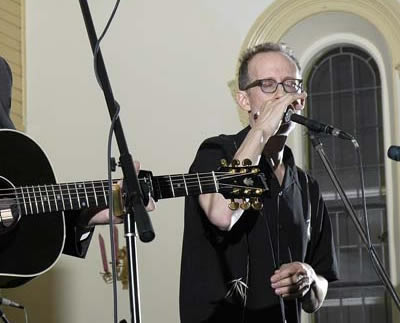 listen to clips return to covers
northernblues.com kevinbreit.com