LIVE 1969 • Simon & Garfunkel
I've read that in the early days, Paul Simon and Art Garfunkel used to rehearse face to face, sitting almost close enough to feel each other's breath. They did this so they could align every nuance of phrasing, pronunciation and counterpoint. Like some kind of yogic folkies, they even learned to inhale and exhale together. Forty-odd years on, the gorgeous and meticulous two-part harmony blend they perfected has been often imitated, but rarely equaled.
And what better way to hear those still thrilling harmonies than in the simple setting of a live performance? Recorded in the fall of 1969 at the height of their fame, this collection culls songs from dates on what would be their final tour. We know now that at this point in their story, Paul and Artie's friendship was fractured beyond repair. But there is little evidence of any friction in the music here.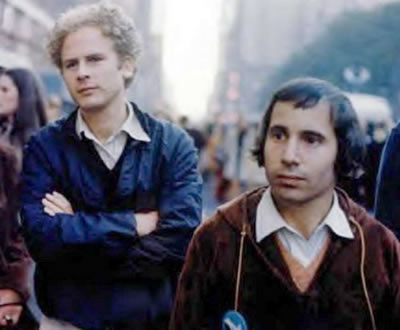 You can detect a tinge of sadness in Garfunkel's voice when he introduces one of the new songs, "So Long Frank Lloyd Wright." He explains that he himself was a former architecture student at Columbia, and suggested to Paul that he write a song about Frank Lloyd Wright. Little did he know that Simon would cleverly use Frank Lloyd Wright and architecture as a cover and metaphor to bid his partner farewell.
But imagine hearing that song for the first time, as this audience was. What a feeling. Even more amazing is when Garfunkel says, "This is another new song. It's called 'Bridge Over Troubled Water.'" I can only envy the audience about to experience that newly unveiled masterpiece. And they know it's something special. After Artie's big finish on "ease your mind," they erupt into rapturous applause.
Elsewhere, the set is a blend of greatest hits ("Homeward Bound," "The Boxer," "Mrs. Robinson") and album tracks ("At The Zoo," "Leaves That Are Green" and one of Garfunkel's finest moments, "For Emily Whenever I May Find Her"). Halfway through, the duo is joined by an ace band -- Joe Osborn on bass, drummer Hal Blaine, pianist Larry Knechtel and guitarist Fred Carter, Jr. -- who bring a welcome, rollicking feel to the turtleneck meditations and celestial yearnings.
For S & G fans, this is a must-own, and for newbies, it's a fine place to meet the dulcet duo.
• Bill DeMain
listen to clips return to covers
legacyrecordings.com simonandgarfunkel.com
paulsimon.com artgarfunkel.com
paul-simon.info a little earlier, in Monterey