SET 'EM WILD, SET 'EM FREE • Akron/Family
Akron/Family has been riding the whirlwind for years, ever since the band's home-recorded, bedroom sampling self-titled album caught Michael Gira's attention back in 2004. A split, nearly-live EP with (and as) Gira's Angels of Light gave fans the first inkling of their exhilarating, free-jamming concert presence, and Meek Warrior, a collaboration with heavyweight jazz drummer Hamid Drake, reminded everyone of their roots and affection for free-improv. Last year's Love Is Simple veered off further into exuberant, communal celebrations of pop, folk, ethnic grooves and jazz. Now with their Dead Oceans debut, the self-recorded, self-produced Set 'Em Wild Set 'Em Free, Akron/Family has made a definitive statement, the career-high album that fulfills the promise this band has shown at every stage of their career.
Set 'Em Wild opens with the expansive, percussion-crazed extravagance of "Everyone Is Guilty," a track that, at once, reminds you of everything you love about this band and simultaneously blows their past recordings out of the water. Over its nearly six minute duration, the cut transmutes itself from afro-funk, to sing-along folk, free jazz. The break, around 2 minutes in, where the vocals surge into a dizzying, all-hands chorus is pure Akron/Family. The slowed-down guitars and "oohs" of about a minute later carry you back to 1968 Beatles psych.
There are gentle, translucent moments here, the opening to tranquil "River," the cricket and harmonica home-i-ness of folky "The Alps and their Orange Evergreen," the slow-chord build of "Sun Will Shine." Still what you remember, primarily, are the out-of-control freak-outs, where the three members of Akron/Family (down from four since Ryan Vanderhoof left) bring in strings and horns and reeds and percussion by the wheelbarrel full, dump it in a teetering, overloaded pile, then dance maniacally around it. "Gravelly Mountains of the Moon" builds from sad flute and thoughtful verses into dense, electrified forcefields of psychedelic folk, a "geometry of sound" (to borrow the lyric) that is all jutting angles and upward-thrusting, transcendent arches and curls.
Akron/Family has always seemed like an important band who had yet to make their biggest statement. Set 'Em Wild Set 'Em Free is that statement, as large scale and ambitious an album as you'll hear in any genre this year, and one of the highlights of 2009 so far.
• Jennifer Kelly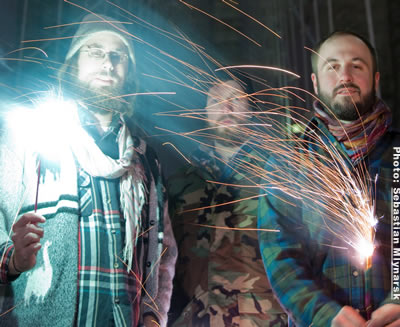 listen to clips return to covers
akronfamily.com their myspace dead oceans
see more photos by sebastian mlynarski