We don't claim to be very experienced with this genre, but several releases by people we admire have recently crossed our desk, and we'd like to bring them to your attention. While artists like Dan Zanes and Zak Morgan are moving lots of units through People magazine coverage and CDBaby exposure, we believe that sometimes the greatest titles are flying just a little (further) under the radar.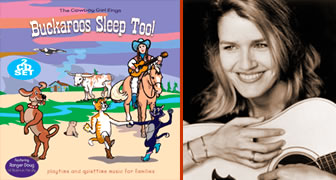 Patience Moore (aka The Cowboy Girl) has had two beautiful children with her string wizard and co-producer husband Van Manakas since we first heard her scintillating and lauded debut. That's how these things happen, artists move into a new sphere of attention, and voila! A beautiful family album is the result, with two full discs, "playtime" and "quiettime." An impressive list of Nashville heavyweights appear, masterfully supporting the lovely voice of the Cowboy Girl. Ranger Doug from Riders in the Sky does some toneful yodeling in duets with the artist, we sure like "That's How A Cowboy Says His Goodnights." Buckaroos Sleep Too is a country and western swing-laced jewel of a double album. I wish more music for grownups sounded this good! We endorse it highly, and welcome you to the Listen page to hear the clips for yourself.
Look At Me Now rocks! It's a brilliant kids' record on the pop side, and Peter Cronin is amazingly in the realm of the child in all the songwriting and playing on this record. "Ketchup Rules" and "My Storybook World" and the fantastic opener "The Clown in You" are like juvenile classics, they're mindblowing to this jaded adult listener. I've already seen this disc at work at my niece's pre-school, kids just love this record. Hell, I love this record. The songs are unbelievable.
Until it's more widely available, contact the artist directly at cronindesign@earthlink.net. Clips on the Listen page!
A Day at the Farm with Farmer Jason is the latest incarnation and offering from Jason Ringenberg, the legendary vocalist of Nashville Country punk outfit Jason and the Scorchers, who helped blaze a trail many have since traveled. He recorded this at George Bradfute's Tone Chaparral II. George plays inspired guitar and bass as usual, but the secret weapon throughout is the multi-talented Fats Kaplin on banjo, fiddle, jew's harp, accordion, and lap steel.
Farmer Jason does a lot of talking before the music begins on many of the cuts, and this is a very special part of the record. He really gets the kids involved in the songs that are about to start, and has an almost Mr. Rogers-type vibe when he's doing it (though his own spin on that, of course) and it's got to be a big hit with the kids. The fantastic illustrations by our old friend Brad Talbott are also a huge plus on this record. Your kids are really gonna love this disc! Check out the clips on the Listen page.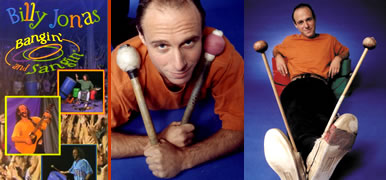 But when it comes to Video, wow! You can't beat the incredible show of Billy Jonas when he's playing to grownups, but when he's playing to kids, he's like the pied piper. Bangin' and Sangin' is the maestro live with a whole lotta kids, and everybody's having a huge time. Sorry we can't offer you a video clip here, but we offer this: Don't even think about it! Buy this video for your kids and they will Love you for it. (Not to mention it will keep them happily occupied for hours.)
The photo at the top of this page appears courtesy of the Australian teacher/author/multi-instrumentalist (and instrument inventor) Jon Madin. If you're looking for a cool way to introduce your children to playing and/or building a musical instrument, visit Jon's online world.
At marimbamusic.com.au you can purchase his how-to books, also marimba kits (if you live in Australia), and contact him directly--you might even be able to bring him to your child's school (he doesn't seem at all reluctant to travel). And if you don't have kids, there's still a very good chance that after you've been to Jon's site you'll feel the urge to build a marimba or echocello for your own pleasure.
listen to clips puremusic home