The last weekend of February, along with about 1,700 others, I attended the 16th Annual Folk Alliance Conference, this year in San Diego. Like everybody else, I'm sure, I figured "San Diego, cool. Go to the beach." Well, it rained a lot (it was actually better weather in Nashville while I was gone) and that broke down palace called the Town and Country (eeech) was in a floodplain, which was nice for the chilly evenings when your shoes got soaked, right? Right.
But, those comparatively small factors notwithstanding (since we had some very nice weather in spurts as well), this past Folk Alliance was a real gas.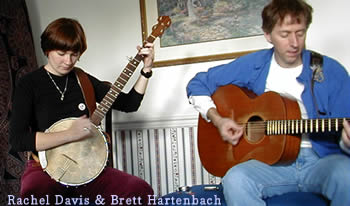 But I'm getting ahead of myself, because I'm not done complaining yet. As many other songwriters opined to me, it was pretty ridiculous how spread out everything was. It's hard enough finding everything, since even the excellent tables provided gratis by Vic Heymann and Oasis do not include the many room numbers that have been too late revealed. Moreover, there was no explicit legend of where all the rooms were (as far as I could tell, anyway), which could easily have been provided by somebody.
I know people think hard about these things, and there are probably no perfect solutions. If you do it all real tightly on three or four floors, one runs into other problems like crowded hallways you can't get through and elevators that are jammed beyond practicality. Anyhow, this conference was too spread out, I thought. If people want to write in on that or other points about Folk Alliance, we'd be happy to print them and do a little public forum. continue