A Conversation with Arthur Godfrey (continued)
PM: So would you say that a lot of your notoriety of recent years in the singer/songwriter scene all began, really, with first winning the John Lennon Songwriting Contest? Is that what started the cycle?
AG: And I was lucky to win in 2001 and again in 2003. I'm not a songwriting junkie. I just had an affinity with John Lennon. And as I was writing--you know, I went through a divorce in '93, and took a Postmaster's job in Maine--I worked with the Post Office for 20 years--and really started to get more serious about playing music. That was just sort of a goal of mine, you know? To enter the John Lennon Song Contest--just for some feedback, really--was a thing with me. I didn't really think I'd get to win. But I did. That year, Yoko had brought all John's memorabilia on tour--all his uniforms from the Magical Mystery Tour, the Peace Bed that they had been in, all of his guitars were at the Rock Hall of Fame. And I got to play at the Rock Hall of Fame, and sign my name underneath the Platters, backstage.
PM: Right. The Rock 'n' Roll Hall of Fame in Cleveland.
AG: In Cleveland, Ohio, with the tour bus. And so it was cool then, when people asked, "Well, where have you played?" I finally started to have some nice venues to mention, relevant to the John Lennon organization.
Their contest is unlike any other song contest. I mean, I've been involved with them now since the end of 2001. And I've played for them in Ohio, and I've played for them at the Gaylord Arena here in Nashville, with yourself and Thomm Jutz. Thomm's a phenomenal guitarist and producer.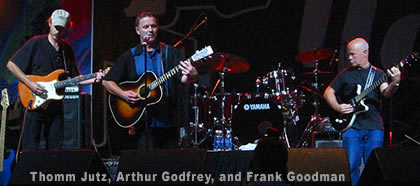 I was with them in Anaheim, California, and just really recently, in Boston. I was very fortunate to meet Sean Lennon. He came to one of our shows, and gave his support. And it was funny, I didn't even see him in the room until we got through playing, and I turned--someone tapped on my shoulder, and it was him. And he says, "Hi, I'm Sean Lennon." And of course, no one had to tell me that. He so has his dad's look. And he goes, "This is my date, Elizabeth Jagger." I mean, what a really nice thing to have happen, man. It brings you some validation. I mean, in this business, that's what satisfies me, just recognition by my peers. To be told that you have something valid to say.
PM: That's what you were saying before we began the taped part of our conversation--you seemed to be saying that the things that you've achieved so far have already satisfied some of the goals that you had. Does that mean you're not going to do a lot more music, or does that mean that there's less pressure but you're going to continue? What does that mean, exactly?
AG: I spent 20 years getting right with my children, and putting them through college. And the events of the last four years have sort of brought some validation to myself and some peace of mind that I've gotten a little bit right with my music, and been recognized to some extent. I'm trying to get right with myself now and sort of put it all together. I certainly want to go out and continue playing. We just got back from a 3,500-mile, sixteen-day radio swing, myself and Joy Lynn White, who has a record coming out in October called One More Time. It was produced by her and Kyle Lehning--Kyle has produced Randy Travis and Waylon Jennings, and the list goes on and on. I have a showcase at the Americana Convention this year. We just got in Performing Songwriter again.
So I'm trying to take it all in and really trying to do the right thing with it. And I sincerely don't know what that is at this point. But the one thing I do know is I can really just sort of sit at home and honestly, from my heart, I am internally satisfied with everything. My aspirations aren't really to be a star, whatever that is. I don't even know the right words to use. I feel funny even using that word. I'll tell you, I've always even felt funny about using the word "artist."
PM: [laughs]
AG: Performing Songwriter just did an article on me in their July issue. And they've been very gracious to me. I've been in there a number of times. [Five, actually.] And on the headlining caption, they actually called me a poet. And it was the first time I've really seen that. It really put a lot to bed with me as far as what I really am. I like that word.
And so I think I'll go out and play some selected venues so I can give some time to myself to get everything together, as we enter into the Americana Association that's coming up September.
I put out this CD, Amen, which is really a collection of songs from my first three CDs, East Side of Town, No Guarantees--which is my very first one--and then If I Only Knew Your Name, the one that I was going to release last year as we were going to New York. The third one centered around this screenplay that I wrote, but we never ended up putting that out.
Again, we intended to spend a few days in New York, wound up spending a couple months, coming back to Nashville for a six or seven days in the interim. And you and engineer Dan Spomer and Falcon-Goodman Management were kind enough to bring us some of the best folks in Nashville: Michael Rhodes, Bob Britt, Steve Conn, Pat McInerney, and more. And we plucked the best songs off of each of my CDs, and remixed and mastered them, and recut a lot of tracks. Without overcooking it or overthinking it, I believe. So we have Amen out now. And I'm doing a three-month radio promo on it. And that's what I'm doing right now. I'll see where the chips fall after that.
PM: Even though you got Amen out, and you're going to do three months of radio, you're not necessarily interested in playing every coffeehouse in America behind this new release, I can see.
AG: Not anymore. And not from a position that they're not valid or anything like that. I mean, God, I don't know if I'm valid. But yeah, the road is just a little bit too taxing to be doing that. I left the Post Office after twenty years. My two oldest daughters, I finally got them out of college. My youngest, Krystal, is in school in Chattanooga. She's helping me with the business, and playing bass with me at times. I left the Post Office a few years ago, but prior to that I had six weeks vacation a year. I'd be out all six weeks, all the weekends, plus working the eighty-hour job, trying to put this music out. I think I've really had my taste and fill of that.
And so here I be. I got enough money to pay my utilities and my bills, and that's as far as that goes. Thank goodness. The Post Office was very good to me, put my kids through school, allowed me to move around, had a decent vacation, and I was able to sort of nurture this to a point where it was fish or cut bait. continue