I met or ran across a lot of interesting artists this year, but no one that knocked me as flat as did Willy Vlautin. We first heard about him through another artist we're very high on, Laura Veirs. She mentioned him as an artist we should investigate, so we're grateful to her, since not only his records but especially his books have become a part of life for me.
What was especially moving for me, when Willy and I finally started talking (it was one of those conversations with a long windup), I was completely taken aback by how deeply self-effacing the artist is.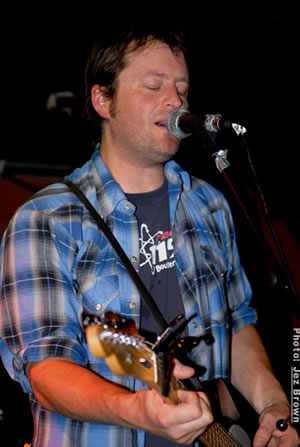 First of all, Willy's got a great band in Portland, Oregon (for our east Coast friends, that's pronounced organ, like the instrument), called Richmond Fontaine. Great songs, great players. I was particularly taken with the playing of steel player/multi-instrumentalist Paul Brainard, a real find. He and Willy did an outstandingly eerie and penetrating soundtrack to the latest novel that was included inside the jacket! Got to love those Harper Perennial folks for putting that together. Actually, in the following conversation, Vlautin talks about this great soundtrack, and how it came to be included.
Thirteen Cities is the most recent CD of Richmond Fontaine, and although it's called Americana, they're sold short greatly by that or any sandbox. They are one of the greatest bands in Americana, however, and far too few people are aware of it. So be sure to check some clips on the Listen page, and see if they don't need to join your playlist.
The books are The Motel Life and Northline. Laconic dynamite. His insight into the disenfranchised, the unnoticed, and the invisible I found paralyzing sometimes. A lot of alcohol and the consequences thereof. Most of the action takes place in Reno, where Willy grew up. The books have drawn incredible reviews and the film rights to both books have already been sold, as the conversation details.
We're illumined and humbled when we run into greatness of this magnitude, especially when the source is so limelight reluctant. Check out the clips, by all means check out the books, and listen to Willy Vlautin here, an amazing guy.