I fell in love with the recent CD Hideaway by The Weepies so much last month that I had to go back and interview them for this one. (Let it be known that you can see a video of "The Making of Hideaway" on youtube, here.)
The infectiousness of this record and the preceding smash Say I Am You that landed 42 placements (!) on TV is endemic. Steve Tannen and Deb Talan can do consistently what so many have tried to do before them: make super catchy and yet thoughtful and well composed songs that are no less or more folk than they are a sweet retro pop, and make stunning records literally at home and in the home studios of friends around the country.
Every cut sounds good. Literally, if you listen and don't pull out your credit card, you mustn't like this kind of music. It's all there.
Steve was a very canny and kind person in our phoner, like an old friend. He was a very generous and spontaneous subject, and as friendly as I'd hoped. They're raising their first and still recent child, Theo. There was some issue in the air about tour dates that had gotten messed up, but it was coming around.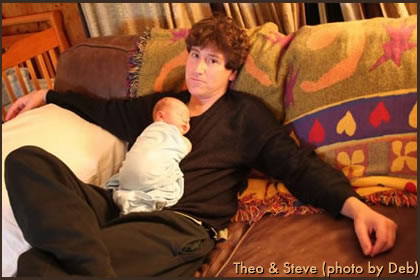 There is a lot of genius and a lot of spirit in these Weepies records. And Deb Talan has a very intoxicating voice. Their blends are sublime; not just vocally, but all the many elements. Just the bounce and the shimmer that the clean electrics have throughout the record is alone worth the price of admission. It's the highest recommendation to say that Hideaway is a lovely record to give to somebody, and to give one's self.