Call it nepotism, nostalgia, call it near-sightedness, but it's really none of the above. When guitar icon Steve Kimock and his old bandmate (my brother) and expatriate songwriter/slide wonder Billy Goodman reunite for a record in the barn and a CA tour, it's a very musical occasion.
Billy had gone up the Kimock farm near Bethlehem PA (where we first encountered him in the '70s) looking to do a little playing with Steve's drummer son Johnny and his uppo Peter Fritz on bass, and perhaps to record a few songs with Steve if he was around and available.
One thing led to another. Billy's got a lot of push even on his best behavior, and Steve's got the inclination to play his guitar all hours of the day. Long story shorter, Bill camped out at the Circle K and when the smoke cleared (or not) there was a 10 song CD, an invite to join a SKF (Steve Kimock and Friends) tour on the West Coast, and a German duo tour in the offing (the last just a week from this writing.) Big Red Barn Sessions features the aforementioned rhythm section of Peter Fritz and John Morgan Kimock, as well as our old friend Jim Kost on B3.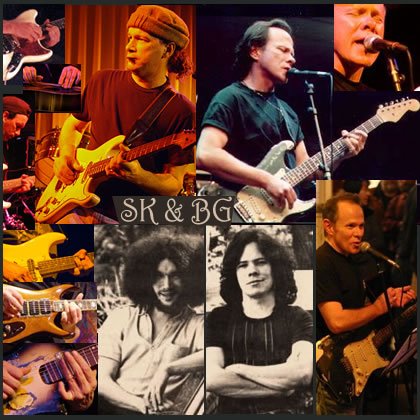 Billy's songs and vocals are front and center, along with a side of Kimock that his fans may have seen less of in recent years. He is a very strong "song" player, along with his well known improvisational prowess and flair for instrumental composition. Like Dylan said of himself, he's also "a song and dance man," and his roots with The Goodman Brothers, Zero, and The Heart of Gold Band often centered around songs and vocals.
As we talk about in the conversations with both Steve and Billy to follow, the West Coast tour included two prestigious hitters, bassist Hutch Hutchison (known to many as Bonnie Raitt's bass player, but that's but one of the great acts with whom he has been associated) and Melvin Seals on keys, who played with Jerry Garcia for many years, among his varied musical exploits.
As we go to cyber-press, the German duo tour should be unfolding, so check kimock.com for details. And be sure to pick up a copy of Big Red Barn Sessions, it's a beauty.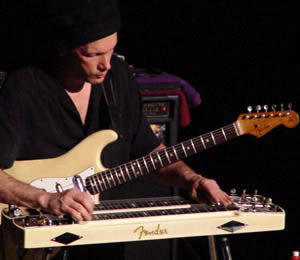 continue to the interview with Steve