One of the most important things I've seen all year is this B4MD (Before The Music Dies) documentary by Andrew Shapter and Joel Rasmussen.
What we'd like to drive home about it first and foremost is that we want you to please look at it as the ultimate stocking stuffer for Xmas for the people in your life that really care about music. These indie filmmakers went right to the wall to make this outstanding documentary, and DVD sales are really the only way they're going to make any money back.
The film is about music; the state of music today, and the state of the music business. It's bleak, but far from hopeless. They talk to an amazing array of very thoughtful, profound musicians, many of whom are quite surprising in their outlook and their eloquence on the subject.
Does it turn into a commercial for some people? Sure, to some degree. But it's not offensive in this regard. Because in each case, the story or the interviews involved are compelling. Erykah Badu is incredible; so is Branford Marsalis, and Questlove, of The Roots.
That these guys embarked on this naïve and dedicated undertaking with no connections at all, and got the footage that they did, is completely mindblowing; it just cannot be done. But they did it. They are some tenacious sonsabitches, you can depend on that.
We are very proud to bring you this film, that is, a long review of it and an interview with the director, Andrew Shapter. We URGE you to buy this DVD, to have a video party for your friends that features the film, and to give it away freely this Christmas. It is being screened at the moment at many theaters across the nation, and needs to be seen by all of us who care about where our music came from, and where it is going.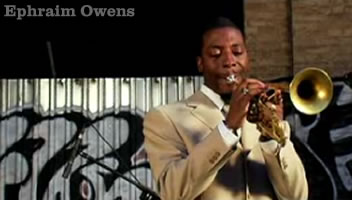 continue to the interview with the director
or continue to our review of the movie