While their notoriety seems not to have popped up on everyone's radar, those of us lucky enough to count XTC as one of our bands seem to agree that they were one of the most musical and important acts of the eighties. Their post punk roots, their pop soul that time brought to bear, and their fierce originality generated a repertoire of song unlike any other in rock history. They had their influences, but processed them uniquely.
They are known for their reluctance to break the small town ties of their origin in Swindon, an English railroad town whose "magic roundabout" may be a dubious claim to fame, especially since it brought us not only XTC, but Gilbert O'Sullivan and jazz sensation Jamie Cullum. (However, you can acquire a magic roundabout t-shirt here.)
In fact, their view of the world is seen so keenly through the looking glass that is Swindon, they are to pop music what small-town sleuth Miss Jane Marple is to mystery. She rarely needed to go outside the hedgerows of St. Mary Mead to solve the most enigmatic of murders, or to simply find examples of the many dark cupboards of the human condition.
Drummer Terry Chambers and especially guitarist and keyboardist Dave Gregory made long-standing contributions that are forever a part of XTC's colorful history, but the songwriters and nucleus of the band are bassist Colin Moulding and guitarist Andy Partridge. Although, undeniably, many of the greatest and most successful songs belong to Moulding, Partridge is by far the more prolific as well as infamous, being by turns more high-energy and socially withdrawn. Andy's paralyzing relationship with stage fright caused XTC to quit touring as early as 1982, when things were really beginning to heat up for the band.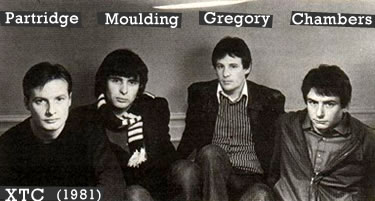 A dozen full-length releases, mostly for Virgin Records, chronicle the story better than the two books available on the band ever could, though Song Stories by Neville Farmer and Chalkhills and Children by Chris Twomey were each satisfying, in their way, for the enthusiast.
Personally, this writer finds the legacy of this particular English band so awesome as to be one of the great pop puzzles of this life. That a band, never having left their somewhat dreary small town English roots, could create a body of music so refined and timeless, miles above the milieu in a corner where no one will ever be able to touch it, is a humbling and inspiring testament to the creativity of the untethered soul. Long live XTC.
Andy's latest venture is Ape House Records, an artist-centric label that sells a small catalog of XTC-related merchandise as well as the music and videos of incredible artists like Veda Hille, Peter Blegvad, and The Milk & Honey Band. We were greatly impressed by what we heard from all these acts, all handpicked by Andy. However, the most important product at the moment is a remarkably artistic and handsomely packaged collection of Andy's outtakes, demos, and rarities of all kinds, called Fuzzy Warbles. There are nine discs total, and a great set of liner notes by Andy about his personal history with recording. For fans of Partridge and XTC, it is an extraordinary look inside a very private person's musical life, skeletons of songs that became landmarks, alternate versions of songs, and demos of gems not yet brought to larger life. Check out the fantastic look of this set at the Ape website.
Had it come from a star that you see and hear everywhere, or one who has his tour buses pulling up to his driveway, such a set might seem mildly interesting. But in this case, it's a lot more like J.D. Salinger's edited diary entries going up for sale.
For that matter, it's uncommon enough to have or to see a conversation with Andy Partridge in the press, it's just not his way. But, thanks to the happy occasion of the release of Fuzzy Warbles (which can be purchased in single volumes or as a box set), we are very happy indeed to bring you such a conversation here.
continue to the interview with Andy