A Conversation with Bo Ramsey (continued)
PM: Let's talk about this new great record, Stranger Blues. What moved you to cut that record?
BR: Well, it's something I've been wanting to do for a long time. That music is what moved me to actually play guitar seriously. And that music has been a constant source of inspiration to me down the line. It's really at the heart of what I do. And so I just wanted to try, in my own way, to pay tribute to some of the great artists and great music that's come before me.
PM: Right. I mean, it's very rare that I listen to a blues record that was cut in the last forty years, but I sure enjoyed yours.
BR: Well, I appreciate that, Frank. I just really have a deep love for that music, and I wanted to try to just pay tribute to that music. It's just something very personal to me I wanted to do before I hang up my cleats. It's something I wanted to do.
PM: Right. I really love your reading of "Sitting on Top of the World"--very original. That's a great song that's seen so many treatments.
BR: Yes. I appreciate that.
PM: Do you know the one Bill Frisell did with the Willies?
BR: No, I haven't heard that one.
PM: [laughs] That's a very good one, too. But I thought yours was really, really beautiful. And I thought you went to a deeply surprising place for your take on the Elizabeth Cotten classic, "Freight Train."
BR: Thank you very much. That was actually Pieta's idea. She co-produced the record with me, and that was her idea to do an instrumental version of that song.
PM: Really inspired. And your son Benson and Pieta's dad [Greg Brown] add a lot to that cut--Greg bending the strings on the banjo.
BR: Yeah.
[laughter]
PM: That's really cool. If it's describable, which guitar track is Benson playing on that cut? The pretty chords or--
BR: No, he's inside. He's fingerpicking. It's inside, it's in there.
PM: Right. I think sometimes musicians are more comfortable and also more revealing when they're talking about their friends, and family, or their cohorts. So there's a couple I want to bring up. For instance, while we're on the subject of Benson, I read somewhere that your son just got signed to Red House.
BR: Correct.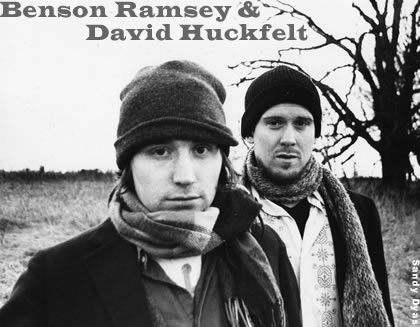 PM: That's really terrific. What is his music like and what's he like?
BR: Ben is a real artist. He has so much music in him. He's just a--well, he's my son--but he's a really sweet guy, and very tender, and cool at the same time. He's really got a thing. He's got his own thing. And he's just the real item. He's a great musician and a great singer and songwriter.
PM: Well, I really look forward to meeting him and hearing him. And we'll certainly be sure to cover him.
BR: Yeah, he's a beauty, man. And he's doing his homework. He really digs down, and he's very, very committed to the art. I have great respect for Ben.
PM: Well, we'll be sure to cover him when that record comes out.
[The Pines, as the duo of Benson Ramsey and David Huckfelt is known (they also gig in various band configurations), are about to begin recording their album for Red House, expected to be released next year.] continue
print (pdf) listen to clips puremusic home