SANDBOX: THE MUSIC OF MARK SANDMAN
• Mark Sandman
My neighbors Jamie and Michele threw a birthday party recently for their two small sons, Dylan and Julian, who were born on the same day two years apart. It was the usual chaos of kids and toys and crying and running until Jamie gave Dylan his big present. It was a sandbox. It was sitting in the back yard: a giant red plastic turtle with a removable shell. Under the shell lay a little beach of lovely, beige sand, pristine and irresistible.
The kids drew around it like scraps of iron to a magnet. Some climbed in immediately and started digging; some calmly transferred handfuls of sand from the box to their pockets, their hair, their mouths; some grabbed fistfuls and threw them at anybody nearby. Baby Julian sat in the sand rolling a few grains delicately between his chubby fingers, nonplussed and clearly wondering "what is this stuff?" His big brother Dylan would not be distracted from his new mecca and at one point prostrated himself facedown in the box, like he was surrendering himself to the sand god or just trying to become one with the stuff.
I know just how he feels. I've been listening to Sandbox: The Music of Mark Sandman, a set of two CDs and a DVD, released in the last few months. To call it a retrospective of the work of the musician most famous for being the singer/writer/two-string slide bass player of the Boston band Morphine, doesn't do it justice. No mere "best of" compilation, this set explores the myriad aspects of Sandman's creative genius, in recordings never released, music videos, interviews, artwork and odd footage. Once I heard Sandbox, I lay right down in it and haven't gotten up yet.
Compiled by his Morphine bandmates, drummer Billy Conway and saxaphonist Dana Colley, the set represents what by all accounts was an exhaustive culling of huge numbers of recordings Mark Sandman made over the years. Sandman, who died onstage at age 46 of an apparent heart attack, recorded tracks with many of the musicians he played with in those years in bands like Morphine, Treat Her Right, Hypnosonics, Either Orchestra, and Candy Bar, as well as with other players in the Boston scene. For Morphine fans, the set gives plenty of time to the dark, low sounds of the trio's signature slide bass, baritone sax, and drums instrumentation. And for followers of Treat Her Right, there's a good helping of that band's bluesy swamp-rock. What's most evident in this collection, though, is the reach of Sandman's creativity and the range of his influences.
We learn from a video interview that he was entranced by some early Muddy Waters recordings that used only bass and drums and that it was from this low setting that he started to experiment with a sparer, darker palette. Hard-core jazz, the beat poets, rock in its varied forms, blues: it's all in here, merged by and filtered through the wit, ear and shadowy baritone voice of Mark Sandman. From the sardonic skip of "I Can Do That," a tune powerfully reminiscent of beat jazz singer Mose Allison, to the sad (and creepy) Tom Waitsian piano tune "Devil's Boots," to the world-beat rocker "Mona's Sister," to the dark, echoey "Hotel Room," an eerie venture into acoustic country--these recordings show him to be a musician who digested a staggering variety of music whole and created something unique and yet with clear and honest roots.
It's interesting, too, to hear the evolution of Mark Sandman's now famous instrumental experimentation. He altered instruments--taking off most of the strings, swapping out bass and guitar strings, tinkering with the pickups--to reproduce the sounds in his head, hence his use of the two-string slide bass in Morphine, as well as other "new" instruments, like one he called the tritar. The DVD is a window into this subject and a hundred others. There's a great, albeit uncomfortable interview in Europe just after Sandman has exited the stage of the Pink Pop Festival. The interviewer keeps asking Sandman if he doesn't find using only two strings "limiting." Sandman says, no, it's easier. Undeterred, the interviewer asks the question again. Sandman answers that all twelve notes are there and he really only needs one string, that actually the second string is him being extravagant. Clearly, the interviewer is the one who finds the two string approach limited. There are lots of strange, funny, and telling moments like this caught on video. They nicely round out the portrait the CDs paint.
Colley and Conway have done an admirable job creating a coherent and multi-faceted view of Sandman's work, which in less capable and knowing hands could have seemed obscure or merely random. It's surprising how accessible a lot of these songs are, though, and doubly amazing that they didn't make it onto the band's records. Perhaps if Sandman had lived longer, they might have.
My friend Jamie, it turns out, was a friend of Mark Sandman's back in Boston. The man he describes is someone who really did immerse himself in music and poetry and art like Dylan trying to merge with his sandbox. This Sandbox captures that feeling well and demands any number of responses. You might wonder, like Julian did, what this stuff is. But, if it calls you, you could dig in it for hours, turning up new ideas, or ingest it bit by bit, or lie in it for a while trying to become one with the soul of Mark Sandman's music. One thing is certain: you won't walk away without getting some on you. It sticks and you'll find it later in some surprising places. Sandboxes are like that. • Judith Edelman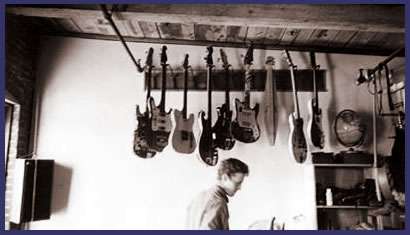 return to covers listen to clips
hi-n-dry.com buy it here or here
a memorial to mark at bostonphoenix.com